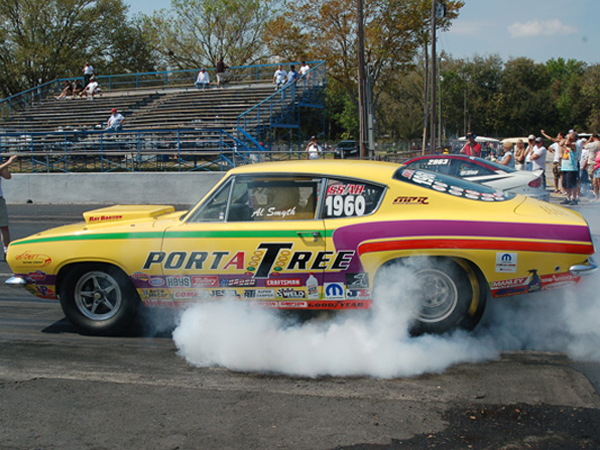 Al Smyth
SS/AH 1968 Hemi Barracuda
Al is co-owner of Portatree Timing Systems, along with his wife, Sue. Al started drag racing when he was in college and has been involved in the sport ever since. He could often be found at New England Dragway racing his black 1970 Hemi Barracuda in bracket races. In 2000 he debuted his 1968 Hemi Barracuda stick car in Super Stock and has been racing it on and off since then. Al has 7 class wins in the car. When not racing, he can be found at the track crewing his daughter, Allison, and son, Stephen, at the starting line or having a cookout with all his friends at his race trailer.
Allison Doll
C/SA 1998 Pontiac Firebird
Alli has been racing since she was 14 years old. She began in a junior dragster and grew up racing at Lebanon Valley Dragway and Old Bridge Township Raceway Park. A highlight of her junior career was winning the best reaction time award in the 17 and 18 year old division at the Junior Dragster Nationals in Bristol, TN. Alli graduated to a 1998 Firebird when she turned 18 and has been racing the car mostly in Division 1 ever since. In 2008 she won the Division 1 race at Maple Grove Dragway, which led her to a 6th-place finish in the division that year. In 2012, she became the first female to win an All-Star Racing Association (ASRA) event at New England Dragway. Alli was crowned 2019 Stock World Champion after earning a perfect divisional score with wins at Numidia Dragway, Lebanon Valley Dragway, Cecil County Dragway, Virginia Motorsports Park and Rockingham Dragway. When not on the race track, you can find Alli practicing her reaction time in her race car; reading inside the motor home; arguing with her crew chief, her brother, Stephen; or walking the Smyth's Beagle, Daisy-Mae, around the race track. If you see Alli at the races, be sure to stop over and say hi!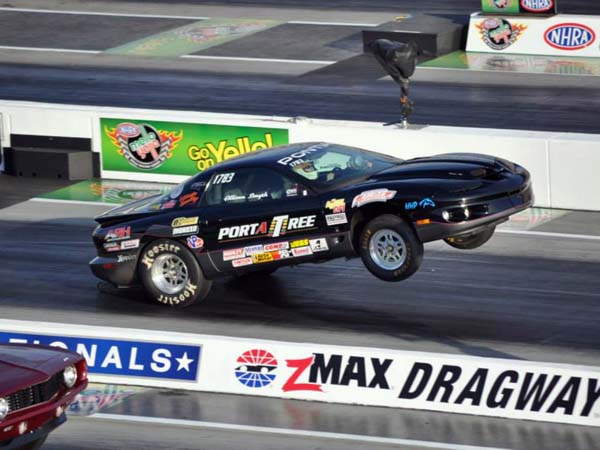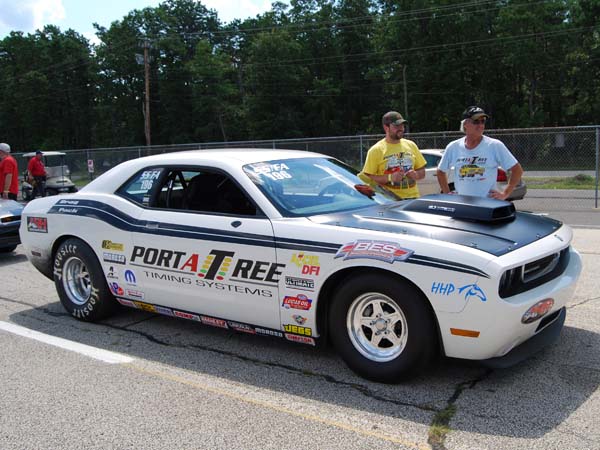 Stephen Smyth
CC/SA 2009 Drag Pack Challenger #32
Steve started racing junior dragsters when he was 8 years old. His favorite race track growing up was Old Bridge Township Raceway Park, where he liked to race and meet new people. Steve won Junior Major Track Champion at Lebanon Valley Dragway in his final year in juniors. After racing his junior dragster, Steve became the Chief (master crew chief) of team Portatree and occasionally raced the team's 98 Firebird in All Star Racing Association (ASRA) events. Steve is currently the driver of the team's 2009 Drag Pak Challenger. When not in his race car, you can find Steve working on the race cars or having a party with friends.
Sue Smyth
Sue is co-owner of Portatree Timing Systems, along with her husband, Al. She is the official team photographer and chef for team Portatree! She is also Team Portatree's biggest supporter and cheerleader. In 2007, she crewed her son Stephen and together they took home the Junior Major Track championship at Lebanon Valley Dragway. She has also crewed her daughter Allison in both Junior Dragster and Stock Eliminator. You can find Sue in the Portatree pit area, with the team in the staging lanes, or walking around with the Smyth's beagle, Daisy-Mae. Be sure to come by and say hello!