Portatree Professional Ultimate Software Version 351
Drag Race Software for the New Millennium
Portatree has enhanced it's Windows™-based software package so that our customers can run a drag race quickly and comfortably with the ultimate in flexibility. Our software allows you to run your own personal computers. Our software can operate on multiple PCs over a LAN or stand-alone utilizing only one PC. The software can be customized on each PC allowing for a Drag Race Operator, Administrator, Announcer, Tech Area, Backup/Other, etc. The advantage of using your own PC is that you can utilize local support for faster service and purchase new PCs at bargain prices when you want to upgrade to the current level of technology. Drag strip operators that purchased computers just a few years ago from other timing system manufacturers are struggling with slow computers that they can not upgrade without spending a lot of money! By linking our Portatree Professional computer to your personal computer, it allows you to use your local PC supplier to upgrade and maintain your PC at a fraction of the cost.
If you truly want high performance out of your Drag Race Timing System then you should definitely network at least two computers together so that one can be used by the race director (Administrator) while the other is used to run the drag racing event. Networking several PCs together will make your event run quickly and efficiently and local support can not be beat!
The Post Process and Drag Race Software have been developed utilizing Borland International's Delphi for Windows™ Applications. We are very pleased with the performance of this software and recommend it to all tracks that have over 100 entries on any given race day.
The Main Screen is where all of the programs are launched including System Paths, Racer Entry, Category Editor, Points Tracking, Datalog, Mailing Lists, Announcer Program, Index Editor, Qualifying Ladders, and the Drag Race Program. There is even a separate program that runs the Time Slip Printer on a separate PC so there's no worry about the printer causing major down time. Keep running your races until the printer is up and running. The printer can start at any time slip, reprint slips and even be set up so that one printer is down track while a backup printer is sitting idle in the tower (this one can be used for reprints).
Weather Information is an optional software upgrade to the drag race package. The Portatree P.C. Weather Center offers very accurate readings on Temperature, Pressure, Humidity, Corrected Altitude (Motorsports Calculation), Vapor Pressure, Grains of Water, Wind Speed, and Wind Direction. All Weather information is printed on the time Slip and saved in the Results Database in case a record is challenged.
Auto Start has 4 parameters that can be set for each category in the Category Editor. Stage on Time (this accounts for flickering of the stage beam), Stage to Start, Random Delay Maximum, and Max Auto Start Delay, which can all be set in milliseconds. Auto Start can be set On or Off for each Category.
We continually update and add new features that will help you run your track more efficiently. There is no doubt that we are in an information age that requires a lot of processing power. The software that we provide will continually be improved for performance and power.
PC Requirements
Compatible with Windows™ XP and higher
RAM:Windows™ XP – 512 MB or higher
Windows™ 7 & higher – 2 GB or higher
3 or more USB PortsA USB Port Expander is NOT recommended
If your Mouse and Keyboard use a USB connection, there must be at least 3 additional USB ports available
All computers purchased after 2005 will have a large enough hard drive and fast enough processor to run the Portatree software. If your computer is more than 10 years old, we recommend calling Portatree to verify that the software will run properly on the computer.
NOTE: Portatree recommends using the computers exclusively for running races. Installing additional software or connecting the computers to the internet will cause them to slow down over time and may impact performance.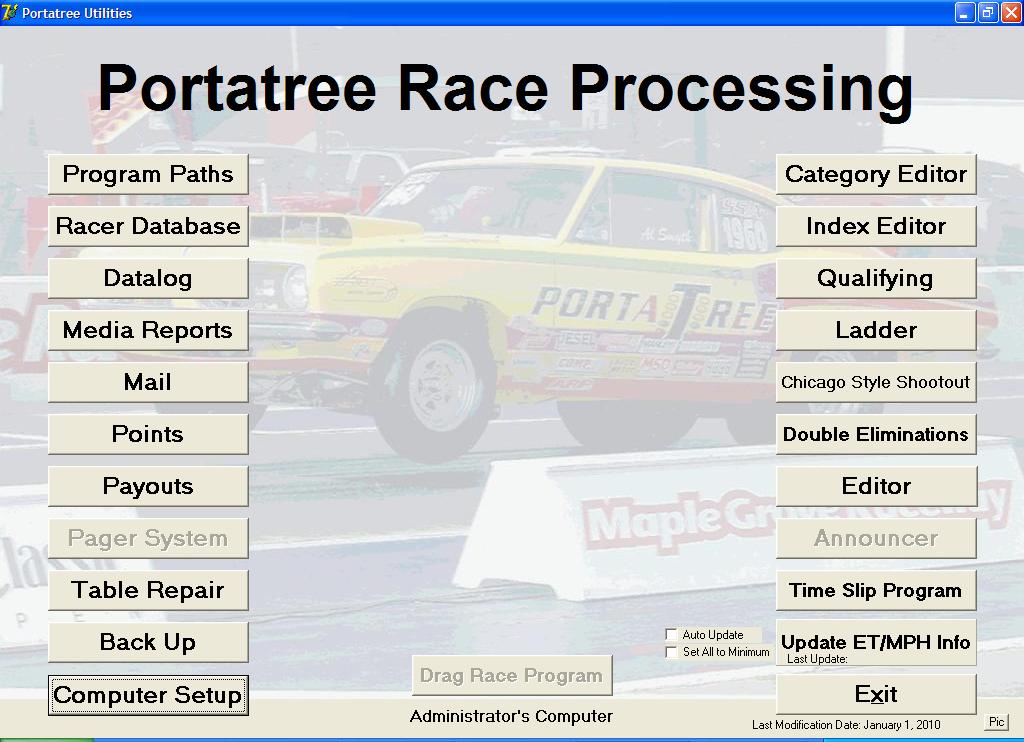 Description of Software Functions
Post Process Software Description
Racer Database
99 Different Categories: The racer database program supports up to 99 different categories.
Entry Number: An Entry Number must be unique to a category. The same Entry Number can be in Multiple Categories.
Awarded Entry Numbers: You can assign "Awarded" Entry Numbers to a racer while keeping track and maintaining  their Original Entry Number (racer number).

Example: Entry Number 1783 is awarded Number 1 to display on the car for 1 year. The original Entry Number 1783 (racer number) is stored in the racer number location. All data is supported by the new Entry Number 1.

Managing Racer Data. Helpful features include:

Keeps track of the Number of Entries in each Category.
Has a List Box feature for quick and easy viewing of all entry numbers currently in a category.
Copy an Entire Category and associated information to another Category. Displays conflicts (duplicate entry numbers) and allows the Operator to make changes.
Copy 1 Entry (Single Racer) and associated information to another category.
Delete Functions: Deletes all records in a Category or Delete a specific record.
Print out a Racer(s) information or all Entries in a Category.

76 Different Data Fields: Racer Database has 76 different data fields for each racer. Includes: Full Name, Address, Phone Numbers, Accomplishments, Sponsors, Car and Engine information, Class Index information, etc.
Racer Registration: Keeps track of a Racers Registration status and Year to Date points.
Flexible Search Feature: Allows all fields to be searched by a "Partial Match" in an individual category or in all categories.
Quick Lookup of Records: Keeps track of the Number of Entries in each Category. The Drop Down Lookup Feature allows quick lookup of records to confirm Entry Numbers that are currently in use at your track.
Quick Add Function: The Quick Add Function allows for rapid data entry when only critical information needs to be entered. Useful when dealing with many tech cards with very little time before racing begins.
Dropdown Box for updating Index: When running individual classes in a category, the current indexes can be located in a drop down list that will automatically add the index to the racer's record.
Prints: Individual Racer Information or all Records in the Category. Marks Racer Records Registered (reg) in Points.
Drop Down lookup Feature: Keeps track of the Number of Entries in each Category. This allows a quick lookup of records and is useful to check for existing Entry Numbers that are currently in use at your Track.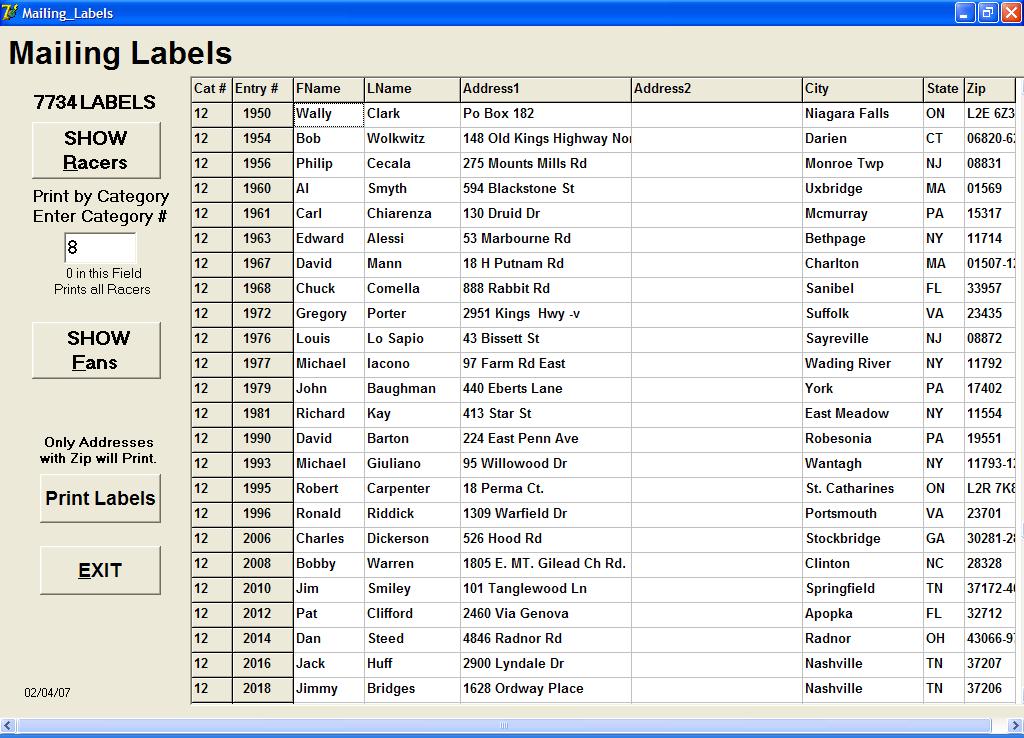 Mail
Scans Racer Database for legal addresses.
Ability to Separate by Category or Display all.
Print mailing labels on standard 30 label sheet.
Displays number of racers in the sort.
Takes valid E-mail addresses and loads them into the Windows Address Book.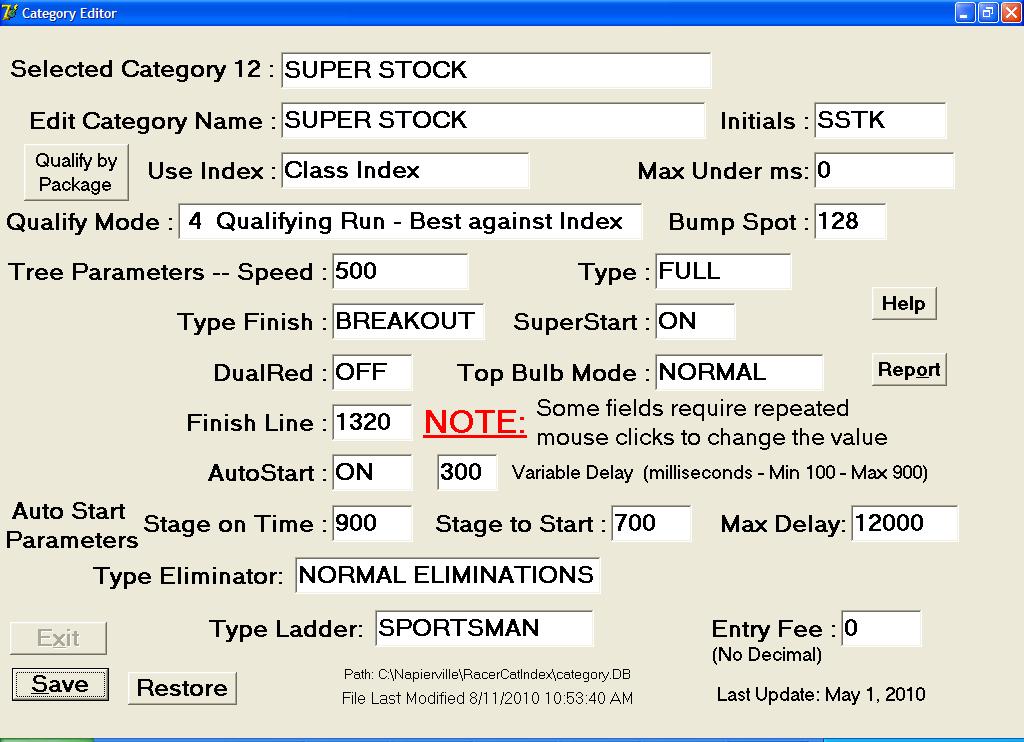 Category Database
99 Different Categories: The category database supports up to 99 separate categories all with editable names.
Allows Category Name Change
Automatically sets up the Race Parameters: The Category Database automatically sets up the race parameters in the drag race program for each category you are running.
Select Inex:

No Index
Default Dial
Class Index
Category Index

Qualifying Modes

Reaction Time in Qualifying or after a round of Eliminations
Dial-in in Qualifying or after a round of Eliminations
Fastest ET in Qualifying or after a round of Eliminations
Fastest Under Index in Qualifying or after a round of Eliminations
Qualifying by Best Package

Set Category Default:

Tree Type and Tree Speed
Finish Location: 1320 Foot – 660 Foot – 330 Foot – 60 Foot – or set your value in the Drag Race Program.
Type of Finish (First Finish, Breakout, or Package Racing)
Deep Stage Allowed or Not Allowed
Dual Red On/Off
Top Amber Bulb: (Normal, Oscillate, or Top Lock (NHRA Cross Talk)
Type Ladder (Sportsman or Pro)
Type Eliminator (Normal, Double Eliminations, or Chicago Shootout)

Entry Fee Field: Allows automatic entry fee for payout calculator.
Report Feature allows you to quickly print and review all category settings.
Auto Start Option – Settings

Variable Delay (.100 to .900 seconds)
Stage On Time (.500 to 3.000 seconds)
Stage to Start (.200 to 3.000 seconds
Max Delay (7 – 20 seconds)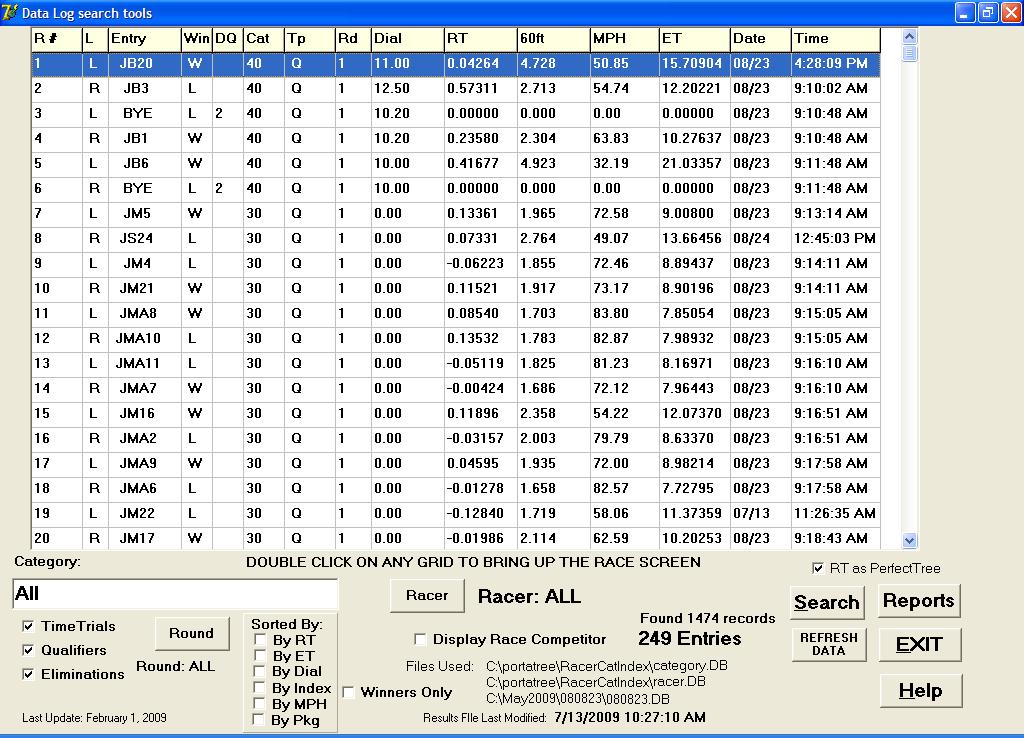 Data Log
Displays Results for all runs for a Specific Race Event. Displays all timing results from First Race to Last Race for a given race day. Many features for sorting and filtering the information displayed. Not for use in Qualifying.
Easy Numbering System – Odd Race number – Left Lane / Even Race number – Right Lane
Display –

Entry Number
Win/Loss
Disqualify Status
Category Number
Type Run (Time Trial – Qualifying – Elimination)
Round Number – Dial-In – Reaction Time – 60 Foot – Spped – Final ET
Date & Time of Run

Search Results by Category: Type of Run – Round – Winner's Only or any Combination.
Displays Number of Entries Found in each Search — Keeps track of Car Count per Event and/or Per Category.
Search for Individual Entry Number and allows you to display their Race competitor.
Double Click on Entry Number to bring up Time Slip – Display results in .001 seconds or .00001 seconds.
Raw Data Report – shows all intermediate times and includes 330 foot, mid Speed, 660 foot and 1,000 foot.
Interval Report – displays all intermediate data by Category and highlights the Best Reaction Time, 60 foot, 330 foot, 660 foot, Mid Speed, 1000 foot, 1320 foot, and Final Speed on the printed out reports for each Category.
Flexible Sort Feature – Sort by Reaction time, Elapsed Time (ET), Speed, Closest to Dial-In, Index, Package, and 1320X.
Refresh Data Button – For usewhen new Data is sent from the Drag Race Computer if the program is open.
Media Reports
Scans Results and finds qualifying lists and elimination results.
Perform round by round Reports — Categories can be printed independently.
Perform a complete Win / Runner-Up / Semi Finalist report for each category.
Outputs per Category can by Previewed, Printed, made into an HTML or pdf File.
Provide a comma delimited Text File of all elimination results found for each category.
All HTML and PDF files are stored in a separate Web Folder that is selected on the Main Post Process Screen under Paths.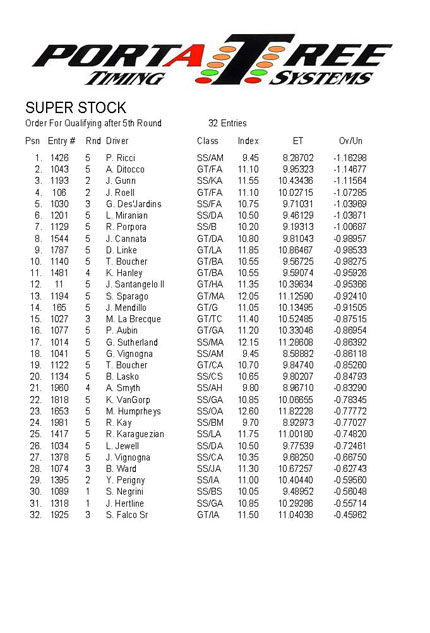 Qualifying Program
The Qualifying Program uses the settings from the Category Database and the Data from the Results Database to generate a Qualifying list for a specific Category.
9 different Qualifying Modes– set in the Category editor

Qualify by Fastest ET
Qualify by Best Reaction Time
Qualify closest to Dial-In
Qualify by Farthest Under Index
Qualify by Best Package
Qualify by Elimination Run by Fastest ET
Qualify by Elimination Run by Best Reaction Time
Qualify by Elimination Run Closest to Dial-In
Qualify by Elimination Run Farthest under Index

Supports up to 99 different categories
Separate Qualifying Results in 1 Category into 3 New Categories with Qualifying Lists in each Category based on the Number of entries that you select for each Category. Example: Top 8 could go into first new Category, next 16 into second new Category, remaining entries into third new Category.
Check BYE Run status at any time to let you know who has already received BYE runs in previous Elimination Rounds. This is important if running a ladder after a round of Eliminations.
Manual editing of the Qualifying List is easily done and can be saved. Manual edits are performed after the last qualifying session if required.
Racer Names can be updated on the Qualifying List at any time.
Displays number of Entries – Bump Spot — Qualifying list showing results.
Ladders
3 to 64 entry Pro or 3 to128 entry Sportsman Ladder selectable in the category editor.
Ladders up to 99 different categories.
Generates Pairing List for each category.
Prints complete Ladders – 4, 8, 16, 32, 64, 128 entry
Prints Partial Ladder at Round entered.
Prints Pairing List for staging crew — Easier to find entries and pair up. LARGE Font.
Prints names under entry number if selected.
Prints blank Ladders — from 3 to 128 entries
Rebuild Ladder – If edit is required for previous round entry number, ladder can be rebuilt
Screen Warnings if qualifying list is newer than pairing list.
Automatically Fixes Ladder if entry number in previous round was entered incorrectly.
Scans for Pairing mistakes and warns operator if pair was run in error.
Competition Index Control
Although this feature is specifically designed for the NHRA Competition Eliminator category, it can be used for any category that has a sanctioning body assigned index for multiple classes within the category. Penalties can be assessed for entries that infringe on the index automatically and can be adjusted for the entire category. Penalties are warned automatically after each round of competition and assessed manually by the operator. During the next round of competition, the entry that has been assessed a penalty will have the index automatically adjusted.
Chicago Shootout
Must be set on Chicago Shootout in Category Editor – All Entries run in Eliminations for a set amount of rounds.
Calculates the Number of Wins per entry for each round.
Will Ladder the Entrants that have won the most # of Rounds after the set amount of rounds have been run.
Only displays the Categories that are set for Chicago Style Shootout.
Help Screen describing Chicago Shootout with examples.
Double Eliminations
All Losers from the first Category are loaded into the Double Elimination Category and then Qualified and Laddered according to the qualification mode set in the Category Editor.
Double Elimination Category is always one or more rounds behind the first Category.
After each round that the first Category makes, the losers from that round are sent into the same round of racing in the Double Elimination category.
The Double Elimination Category is Re-Qualified and Re-Laddered after each round. Pairing Lists only are available for the staging lane personnel. There are no printed Ladders.
Class Eliminations
This feature is used where there are Classes within a category such as Stock and Super Stock in the NHRA. Although this feature has not been fully completed and will be an ongoing project for 2013 during the update program, it will eventually run all classes within the category in a heads up elimination format with no effect on the Category Eliminator. The intent is for the final round of qualifying to also be the First Round of Eliminations for each Class with subsequent rounds of eliminations being run until each class has one Champion. There is also a feature for running multiple class eliminations as well. Class eliminations are run in a different eliminator mode which will not affect the regular Category Eliminations that a track normally runs.
Points
Define Points for Attendance, 6 Qualifying Rounds, up to 9 Elimination Rounds.
Points Awarded for Round Win or Points can be Awarded when a Round has been lost.
Option allows Points to be given to Buy Back Entrants.
Calculate and Save Race Day Points — can be edited at any time.
Race Day Totals can be Edited

Delete the entire Category from Points for that day.
Buttons to Find a Racer
Add Racer or Delete Racer
Convert points to Comma Delimited text file.

Print Report for review before adding to year totals.
Add Race Day Points to Yearly Points total.
Print Year Reports: Preview, Printer, HTML, or pdf Files by Category
Keeps track of Points days used, that make up the Yearly Points File.
Will also Sort by a Reduced number of Points Days: Example: 26 events out of 32 events. Takes the Entrants best Points days and adds to the Yearly Total.
Team Points
If you enter a team initial ( 2 letter identification ) in the Racer Database under Team Initial on the first screen, when you run team points for that category, points will be assigned to everyone in the database with those Team Initials. You can run several different categories or one category at a time. The program will keep track of each racer in the same category, assign points by round ( Points per Round can be changed on the Main Screen — up to 9 Rounds ), and report shows total points each team accumulates. Team Points is used when racers from different tracks compete for a Race Track Championship.
Payouts
The Entry Fee is located in the Category Editor and is used by this program.
Calculates the Payout to each race round winner ( round lost is the pay round ).
Payouts – Winner, Runner-Up, Semi's and Round winner payouts are displayed.
Displays list of Racer's names and Win Position. Displays Payout to each Race Round Winner.
Calculator for Payout Estimating and Calculating.
Win Multiplier to Increase / Decrease Winner Payout.
Displays the number of Entrants in each Eliminator, Total Purse, and Total Payout.
Administrator Editor
The Administrator Editor allows Editing of Entry Number, Race Type ( Time Trial, Qualification, Elimination), Category Number, Disqualification Status, and Win Status.
Automatically Calculates the Qualification Position on Qualification Run Change.
Shows Race Competitor on all Elimination Runs.
Software runs from the Administrator's PC – Drag Race software automatically and permanently changes the results database.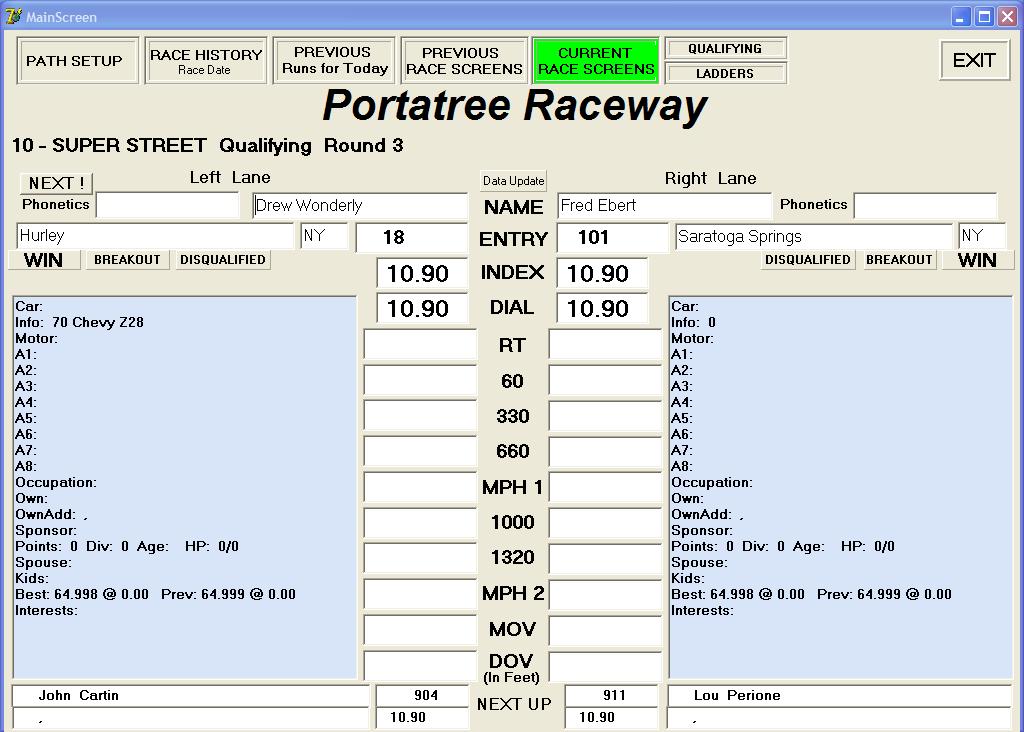 Announcer Program
Special Audio Feature is used for advertisements and promoting using MP3s. Allows the announcer to setup a block of pre-recorded messages or advertisements. Can be used during downtimes to promote sponsors, concessions, important announcements, safety, or introduce a specific racer.
New Announcer Sound Effects: 10 programmable buttons play sound clips that can be used to jest about things happening on the track or in the stands. Sound clips enhance the ability to keep the racers and fans involved, informed, and entertained. Example: Snoring sound when someone cuts a bad light.
New Audio Feature: Preload MP3 of national anthem(s). Will play 1 or 2 anthems (selectable) with an adjustable pause between both. Plays off your PC audio output.
Automatically follows the Drag Race Computer.
Can delay Screen Change for up to 30 seconds (User Adjustable) after the win lights occur (current race is complete).
Easy Buttons on Top of Screen for Locating:

Previous Race Screens.
Database Paths.
History and Current Run Information.
Qualifying Lists including Instant Qualifier, Ladders – updated on the fly, and Current Points List and Standings for all Categories and Competitors.

Blocks out Reaction Time on Elimination Runs (User Selectable) so Announcer won't inadvertently inform the spectators.
Highlights RT in Red on Red Lights
Shows Disqualification and No Shows instantly on screen.
Provides Text File for Real Time information for use with other remote applications.
Provides the Announcer with Racer Database information on the Drivers.
Live Data – Data Feed reports Real Time Data.
Time Slip Program
The Time Slip Program Runs independent of the Drag Race Computer. We recommend the Time Slip Program to be operated on the Announcer P.C.
Continually Monitors Results for new Race Information — Automatically prints Time Slips.
Prints Time Slip when Drag Race Operator saves results.
Set up for additional Printer to print lost Time Slips. Can print any Time Slip at any time.
Main Time Slip Printer can be set to Re-Print back from last printed slip in case of operator error.
6 Header Lines and 4 Trailer Lines can be customized.
All Text Lines can be edited to denote Track Timer Locations.
Prints Weather Information if Database contains Weather Information.
Will Print Individualized Slips — Entry Number printed very Large at top of Time Slip.
Keeps Track of the number of Time Slips printed.
Set on .001, .00001, or follow Drag Race Computer accuracy.
Can Swap Tower and Down Track Printer outputs by click of button.
Table Repair
Repair Utility to Fix Databases in case of shut down error.
Easy locate, detect problem, fix, and verify table repaired.
BackUp
One button backup of all race day files into one backup location ( set location in Program paths).
Can be set to Backup to a Memory Stick or another P.C.
Final Panel shows the exact number of files copied in the Backup Procedure.
Update ET/ MPH Information
Program takes all of the current race day results information for each racer and loads new record runs for each Racer into the Racer Database for use by the Announcer.
Program can be set to automatically look up new record runs and enter the new information into the racer database.
Program displays the last time the data has been updated.
Computer Setup
Setup Registration Codes — Key 1 and Key 2.
Setup com ports for connection to Professional Gold Box Timer and Scoreboards.
Set Scoreboard Oscillation Time if using 1 scoreboard per lane for ET and Speed.
Set the Type of Computer – Drag Race Operator, Announcer, Administrator, Office, or Other.
Locate Mapped Network Drives for each of the other computers on the LAN.
Drag Race Program Description
Personal Computer connects to Professional Gold Box through RS-232 serial port on PC or with use of a USB to serial port adapter. Null modem cable provided with Gold box.
Provides Results Data to the Administrator and Announcer computer through LAN (Local Area Network). Gets Category and Racer Data from the Administrator Computer via LAN.
Sensor Test and Tree Test capability for trouble shooting and testing.
Time Location Settings to provide flexibility for Sanctioning Body requirements.
Stores Weather Data and Racer Data in the Results Database for use by other programs.
Displays Real Time Results as the race is being conducted. Provides Real Time information for Announcer Program.
Sets the Race up by Category Default or can be overridden by the operator. If Category is setup for .500 Full Tree, it can be changed to .400 Pro tree on screen quickly.
Displays Category Index or Class Index on screen.
Ability to run Eliminations in an AUTO PAIRING mode where pairs are setup from the Ladder List (provided by Administrator) and displayed in a list which can be "Clicked on" to enter into Race Que. When running auto pairing (Strict Ladder mode), the program will NOT let the operator race two Vehicles in error.
The ability to Re-run if an error was made and to Alternate enter an Entry in Strict Ladder mode in First Round Only (the pairing list will be modified on the Administrator's computer if an Alternate Entry was made). Re-runs are saved and marked so they are ignored by other programs.
The ability to Change Immediately on the Screen:

Breakout – On/Off
Dual Red – On/Off
Top bulb – Normal, Top Lock, or Oscillate
Super Start – On/Off

Scoreboards can be Shut Off on the main screen by a mouse click.
Scoreboard Brightness can be changed on main screen by a mouse click.
Allows 2 Pair of Vehicles to be "On Deck" ready to race:
Displays Auto Start Countdown Timer and displays Auto Start Status — (Auto Start Software on — Auto Start Starter Switch is on).
Allows Back Bumping of Entries on Race Screen if Entry Error. Saves all other information.
Displays Finish Location: 60 foot, 330 foot, 660 foot, 1320 foot on screen.
Change from Hi Res (.00001 secs) to Low Res (.001 secs) by button on screen
Auto Saves Results on Bump Que ( loading entries onto race screen).
Displays Pre-stage and Stage ( Left and Right lane ) Status via illuminated panels on screen.
Displays Margin of Victory in Seconds on Screen ( Margin of Victory is always displayed in Winner's Lane — Positive Value means the Winner was ahead – Negative Value means Behind
Displays Distance of Victory on screen in Feet or Meters.
Auto Load Feature allows Computer to automatically advance to Next 2 Competitors after the current race has Finished. Enters the Race Number as the Entry Number. Delay time between races is adjustable. Computer operator is not needed. Will operate Auto Start, but the tree state ( Full or Pro, .5 or .4) is fixed. Very useful for Test Sessions or Street Night. Race Number is displayed on the Dial-In Board and/or Scoreboard which indicates the time slip the racer should pick up at the time slip booth.