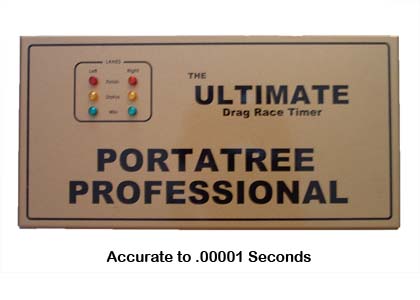 Professional Ultimate Timer – Gold Box
Our line of drag racing timing computers has revolutionized the sport of drag racing and allows a track to begin very small and to grow very large. The features that are standard on all of our units are state of the art and some of the options that we offer are very futuristic. We have options that offer increased efficiency and others that offer increased safety. Whatever your track size, the Portatree Professional is flexible enough to fit your needs.
Utilizes Windows™ Based Software
A Generation Ahead of the Competition
The Highest Performance Drag Race Timing System
The Portatree Professional is designed to operate with a Personal Computer (PC). Portatree does not supply the PCs. PC technology changes so fast that it is best that you purchase your PC's locally so that you can keep your PC's current. When computer speed gets faster, you can simply bring your PC to your local computer store and have it upgraded to the latest and greatest technology. If you want to operate up to 10 or more PC's on a LAN, you can easily setup your own custom application.
Special Features
We currently serve over 1000 tracks worldwide and the amount of feedback and response from track owners and managers has prompted us to add some of the most unique features that anyone could imagine:
Top Bulb Oscillate (Full Tree): This feature allows the track operator to set the computer into a mode that makes the top amber on the Christmas Tree never come on at the correct time. The second and third bulbs operate as they normally would, but any driver with a delay box trying to leave off of the top bulb will never be able to cut a consistent reaction time. This helps the track operator by eliminating the need to police cars for delay boxes in classes where no delay boxes are allowed. This is also a good deterrent to people trying to cheat.
Tree Speed Set: The normal .500 and .400 Tree Speeds in Full and Pro tree are preset in the computer. If a track operator wanted to initiate a special tree speed, it can be done in the setup menu. Any custom speed between .100 and .900 seconds can be entered into the computer. Tree speeds can be set to .001 seconds.
Full and Pro Tree Races in Same Class: This feature allows the track operator to run Full trees against Pro trees with any tree speed setting. You can run an all out anything goes category with handicaps and true win. This is a great promotional feature that will attract many new racers and fans to your track.
Perfect Tree .000 OR .400/.500 (Tree Speed): The software is setup to report Reaction Time as .000 Perfect Light or Tree Speed as the Perfect Light
Timeslip Printer Program: Portatree provides a separate program that generates time slips for the racers. We recommend that it is run on a separate PC (other than the Drag Race Operator's computer), usually the Announcer's PC. The program prints a time slip when results are added to the results database. You can print any slip at any time and it supports a printer in the Tower as well as Downtrack.
Networking PCs with Portatree Custome Software: The number of Personal Computers that you connect to your LAN (Local Area Network) is your choice. This feature gives you incredible power and operational functions at your race track. You can have one PC in the tower for race control, a second PC for the announcer, a third PC for printing out Qualifying and Ladder reports as well as Pairing Lists, and a fourth PC in the Tech Station, a fifth in the Office, etc…..
Microsoft Windows™ Compatible Software: The Portatree Software is Windows™ compatible. The Portatree System is the only system on the market that lets the customers use their own PC to connect to the system. This allows the customer to upgrade their computers at any time as technology improves.
Package Racing, Bracket Racing (Breakouts), or First Finish: Every Promoter knows about Bracket Racing or first finish, but Package Racing is a whole new concept that is safer and more fun for spectators. Instead of having a red light foul or a breakout spoil the racing action, we allow a racer to go .100 under a perfect light (.101 under will red light) and still go green! We add the absolute value of their RT (over or under) to the absolute value of their ET (over or under their Dial-In) and see which racer has the better package (you CAN NOT Breakout).
EXAMPLE (Using .000 as a perfect light):

Racer 1: .017 RT – 9.529 ET on 9.52 Dial
Racer 1 Package: .017 + .009 = .026

Racer 2: -.011 RT – 9.106 ET on 9.12 Dial
Racer 2 Package: .011 + .014 = .025 (Winner)
Diagnostics: A new diagnostics screen is provided that helps analyze all inputs and outputs of the Portatree Professional Ultimate. This is helpful in troubleshooting photocell inputs. You can tie inputs to Tree Lights so that one person can trouble shoot sensor connection & alignment.
Status Lights: On the face of the Ultimate Pro Box are finish line/guard status, down track sensor status, and win status. If any down track sensor is misaligned, the Down track status light will illuminate for that lane (yellow LED). If the Finish line or guard beam sensor is misaligned the finish line status light in that lane will illuminate (red LED). If a yellow LED is illuminated you can still run a race. If a red LED is illuminated, you will not be able to run a race. The Win light illuminates after a race is complete (green LED ).
Dial-In Display Board (Optional): The racer will know exactly what their Dial-Ins are when they pull up to the starting line. The system supports 2 Dial-In Boards: One in the Burnout area and One on top of the Tree. They are setup with two unique network addresses and work off the same data cable.
Top Bulb Lock: Also known as "Cross-Talk". When this feature is turned on the top amber bulb in each lane comes on at the same time on a handicapped tree. The second and third amber will operate as they normally would.
Eliminator Backup Track Timer: Portatree's Eliminator Economy Drag Track System can be used as an emergency stand alone backup system. It supports Pre-stage, Stage, Guard, 60', mid-track ET, Finish MPH, Finish ET, Win Lights and Stop Lights. Time-slips will show all results including Breakouts and Car Numbers. Dial-in displays (if setup) also supported.
Hardware Specifications
12 Volt DC power input jack (do not connect, for testing only)
Outputs:

25-pin connector to full-size tree
Drivers for 2 win lights, 2 stop lights & tower ready
1 RJ-12 output for time slip printer
9-pin DSub or USB connector to connect to PC

Inputs:

Pre-stage, stage, guard, 60ft, 330ft, Mid MPH, 660ft, 1000ft, finish MPH, and 1320ft sensors for each lane
Panic lights, reset and starter switches
Vehicle reaction time sensors (print roll out on every time slip!)
8 additional sensors in each lane

Adjustable tree speed from 0.100 to 0.900 for both Pro and Full Tree Type
Computer connection required for Portatree Ultimate (Gold box) to operate
Eliminator Competition can be used as a backup

Connects directly to the track interface box
Can be used standalone or with a PC

The Portatree Ultimate (Gold box) is compatible with Portatree Professional (Silver Box) Systems or with Eliminator Competition Systems

Make sure your Portatree Ultimate is configured correctly before connecting it to your Portatree Professional or Eliminator Competition System!

The Portatree Ultimate times to .00001 seconds

Accurate within .0001 seconds in 20 seconds of real time
Repeatable to .00001 seconds